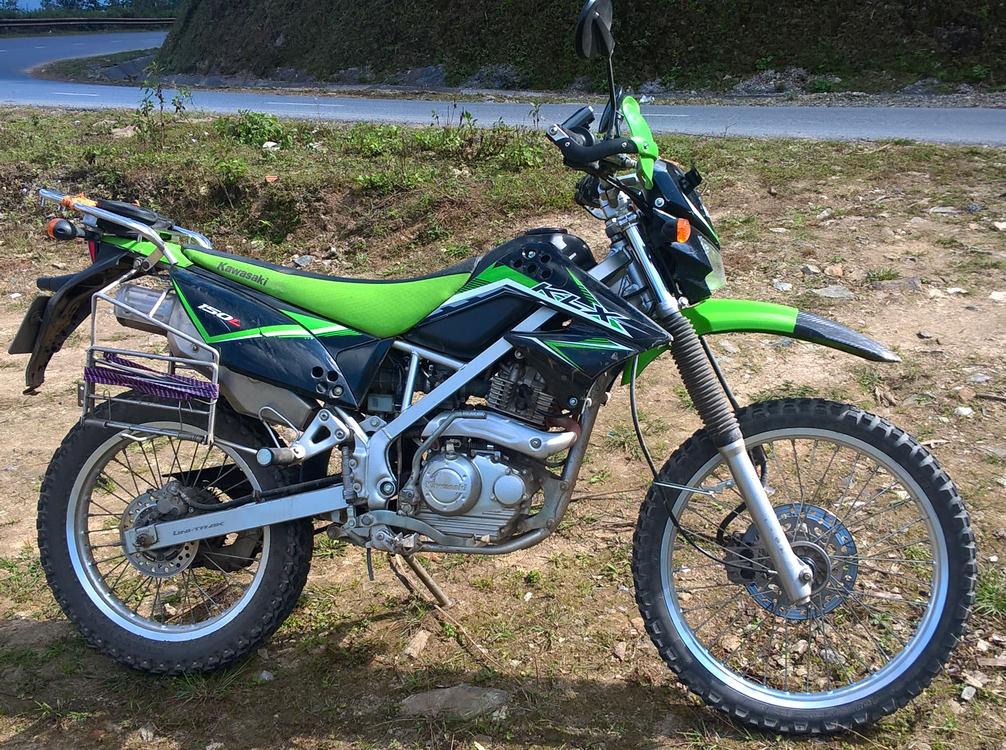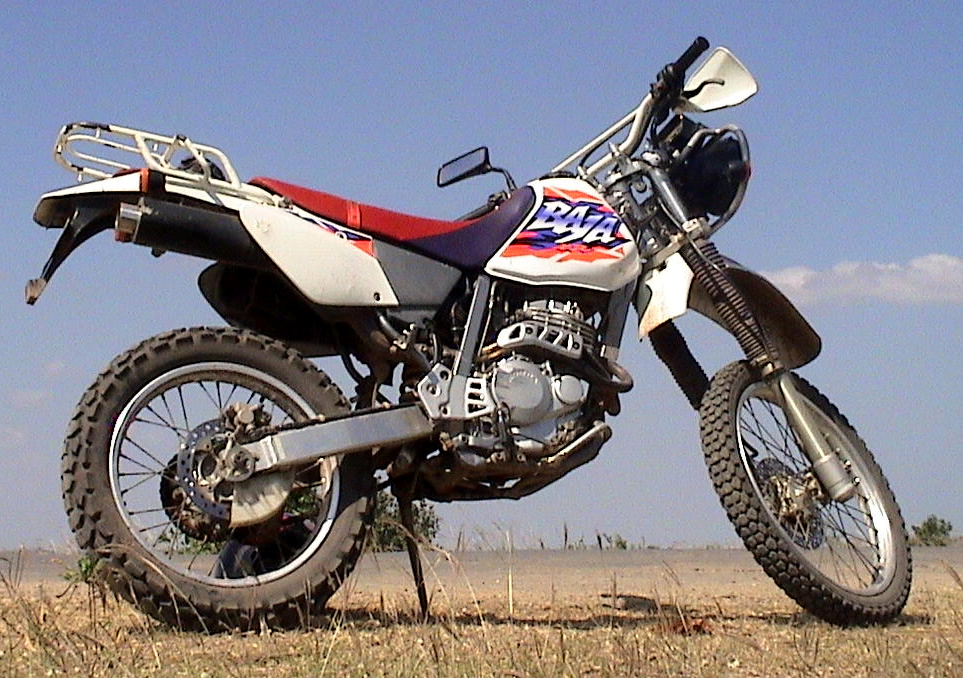 You ride on a Kawasaki KLX 150cc for this trip (first picture). If you prefer a Honda XR 250cc motorbike than this will cost 160,- euro or 180,- us extra, please indicate this on your booking. Availability of the 250 cc is limited (second picture).
Tour leader
This trip will be led starting from 2 to 7 participants by our local guide who also is the mechanic. This person has been the permanent mechanic on our Vietnam trips for the past 12 years. He knows all the routes, hotels and restaurants well and speaks good English. A multilingual tourleader will lead this tour starting from 8 participants.
Support vehicle
A support car will accompany this trip starting from 4 pariticipants This will be driven by our permanent local driver. The support vehicle will transport the luggage, spare parts and tools. There is space in the support car for any companion passengers who do not wish to or cannot double up on a motorcycle.
Physical challenges
During this trip through North Vietnam, we ride neither at a high altitude nor through extremely desolate regions. We ride on light motorcycles which make the trip suitable also for those riders who have never undertaken an adventurous motorcycle trip before. The daily distances are not long giving rise to frequent opportunities for stopping along the way to take photographs or to visit villages. What might well prove difficult, however, is dealing with the extremely busy traffic in and around Hanoi. One must also take into account that on the main roads, which we do our best to avoid as much as possible, can be busy with trucks which do not comply with traffic regulations.
Off Road
Only a small section of the trip goes over dirt roads and paths, amounting to a total of two to three days in the current schedule. These trails are not very difficult and are more than practicable without any off road experience or off road training beforehand. When the weather is worse than expected, however, it can be these off road days in particular which prove to be problematic.
Clothing
The following items are mandatory: helmet, motorcycle jacket with protection, gloves, a good hard wearing pair of (motorcycle) trousers with protection and solid high (mountain) boots. It can be very warm in the lowland parts of the trip, especially in Spring and Autumn. Accordingly, a protective summer motorcycle jacket is recommended. One can wear extra clothing under one's jacket if necessary. Furthermore, a good pair of sunglasses and a helmet with visor that protects against dust are useful. The rainy season in northern Vietnam lasts from June to the end of August. We plan our trips before or after the rainy season. Nonetheless, the weather forecasts are subject to change so one must be prepared for a possible rain shower on all the trips. Finally, it can be quite cold in December and January in the mountains so it is advisable to bring warm motorcycle gear then.
Driver's license
Since 1 January 2016, for most countries, you can officially ride a motor in Vietnam, if you have besides your own, national driver's license, an International Driving Permit (IDP). Your own driver's license is not valid without this IDP. Only the IDP model 1968 is accepted.
Visa
It has recently become possible to purchase a visa for Vietnam on arrival at Hanoi airport. This costs USD 25 However, this is only possible if you are in possession of a so-called letter of invitation. We arrange this letter on your behalf, the costs of which are included in the costs for the trip. You can also arrange an electronic visa online, for 25 usd. See: https://evisa.xuatnhapcanh.gov.vn/en_US/web/guest/home
More details about the trip and items to bring can be found in the tour's handbook which you will receive approx. one month prior to departure.
Tourdetails

Tourcode:

VIK

Category:

Adventure

Group size:

2 - 12

Days:

10

Price:

From $ 1.800,-
Routemap