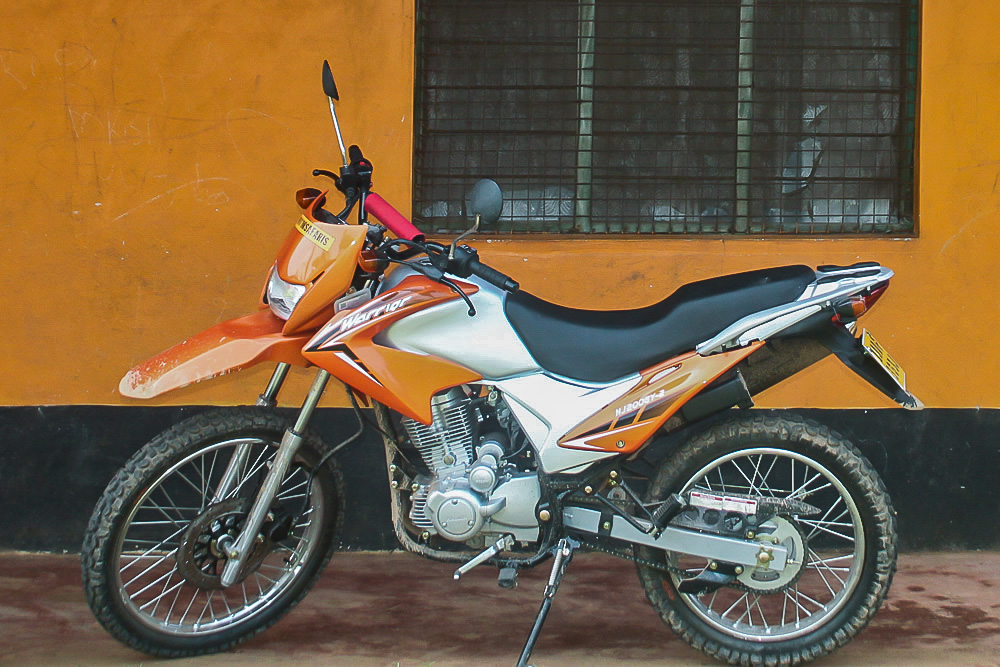 For this tour you will ride a Haojin Warrior 200cc motorcycle. Maximum deductible excess for damage to your own motorcycle is 500 Euros.
International group
This tour is in cooperation with Motorsafaris. Besides English the local Kenian tour guide also speaks Swahili.
Level of difficulty
The altitude reached during this tour through Tanzania isn't really worth a mention. Daily distances are not very long. There is enough time for photo opportunity stops en route, and for visits to villages.
Off-road
This tour suits all healthy motorcyclists. We ride on asphalted main roads and frequently follow a variety of narrow routes off the beaten track. About a third of the route is on unpaved roads. However, these are hard-packed gravel roads, The unpaved roads are not difficult but an off-road training course is recommended. The motorcycles are light and manoeuvrable enduro bikes.
Overnight stays
During this tour we stay in comfortable hotels or resorts. For two nights we stay in a tented camp. Towels and bedding are included in the price.
Climate
The wet season in Tanzania runs from December to July. The temperature fluctuates mostly between 25 and 30 degrees throughout the year, depending of course on altitude. We have chosen to arrange this tour for September. Firstly because that's when get the dry weather, and secondly because it is usually the time the great migration of animals over the Serengeti takes place.
Clothing
Compulsory items are a helmet, an armoured motorcycle jacket, gloves, good quality armoured motorcycle trousers or pants with loose knee-armour, and sturdy, high (mountain) boots. Also very useful are a good pair of sunglasses, lip balm and sunscreen, and a helmet with visor or a good pair of glasses that also protects against the dust on unpaved roads.
Pocket-money and finance
Additionally bring around 100,- USD for your visa and consumptions in Tanzania. In Kenya you can withdraw money from any ATM. Food and drinks are around 22, - USD per day. The game viewing in Amboseli will cost around 110,- USD (12.000 KES)
Visa
You can purchase your visa for Kenia upon arrival at the airport this will cost 50.- USD. Your passport should be valid for a minimum of 6 months from the date of entry into Kenia. There is a visa requirement to enter Tanzania. You can purchase your visa for 50.- USD at the border.
More details about the trip and items to bring can be found in the tour's handbook which you will receive approximately one month prior to departure.
Tourdetails

Tourcode:

TAN

Category:

Adventure

Group size:

4 - 7

Days:

10

Price:

From $ 2.480,-
Routemap