Colombia is perhaps the nicest country in South America. In any case, the happiest country. With its smiling, friendly people, and infectious music everywhere. It is a paradise of beauty situated between the Caribbean region and the Pacific ocean.
To a large extend the internal problems that plagued Colombia in recent years belong to the past, and the country is now slowly opening itself to tourism. Especially now is a good time to go on an adventure and be one of the first ones to discover this fascinating country. The light motorcycle is the perfect mode of transport because it allows us to leave the paved roads and explore areas that remain largely hidden from other travellers.
Our journey begins in the city of Santa Marta, situated on the coast. Here we let the Caribbean coast work its magic on us straight away. From Santa Marta we ride to Cartagena with its impressive colonial city centre and on to the hidden jewel of Mompox, the stage for many of Gabriel Garcia Marquez's novels. Panoramic views alternate with rugged scenery, and everywhere we experience the unique warmth and hospitality of the Colombian population. We also gain some insight into the lives of the Arhuaco and Wayuu Indians, and get an idea of the cultural roots of the country.
Riding along the coast it is surprising to see the rapid transition from the La Guajira desert to the tropical exuberant vegetation of the Sierra Nevada (de Santa Marta) with its high peaks, some over 5000m high. Not only is this the place to enjoy the dream beaches of the Caribbean, it also leads you along small tracks to discover the pristine nature of its interior.
This trip can be extended with a visit to Bogotá and the National park Tayrona on the Caribbean coast.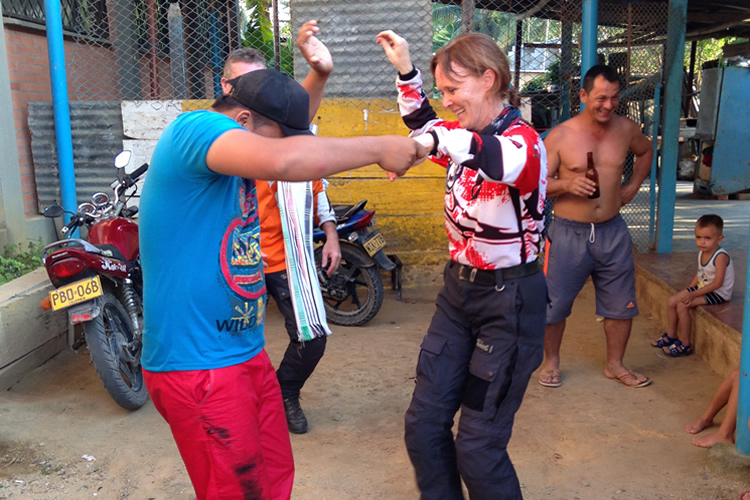 Tourdetails

Tourcode:

COL

Category:

Adventure

Group size:

6 - 8

Days:

21

Price:

From $ 4.200,-
Upcoming departure dates

Tourcode

Departure

Status
Routemap