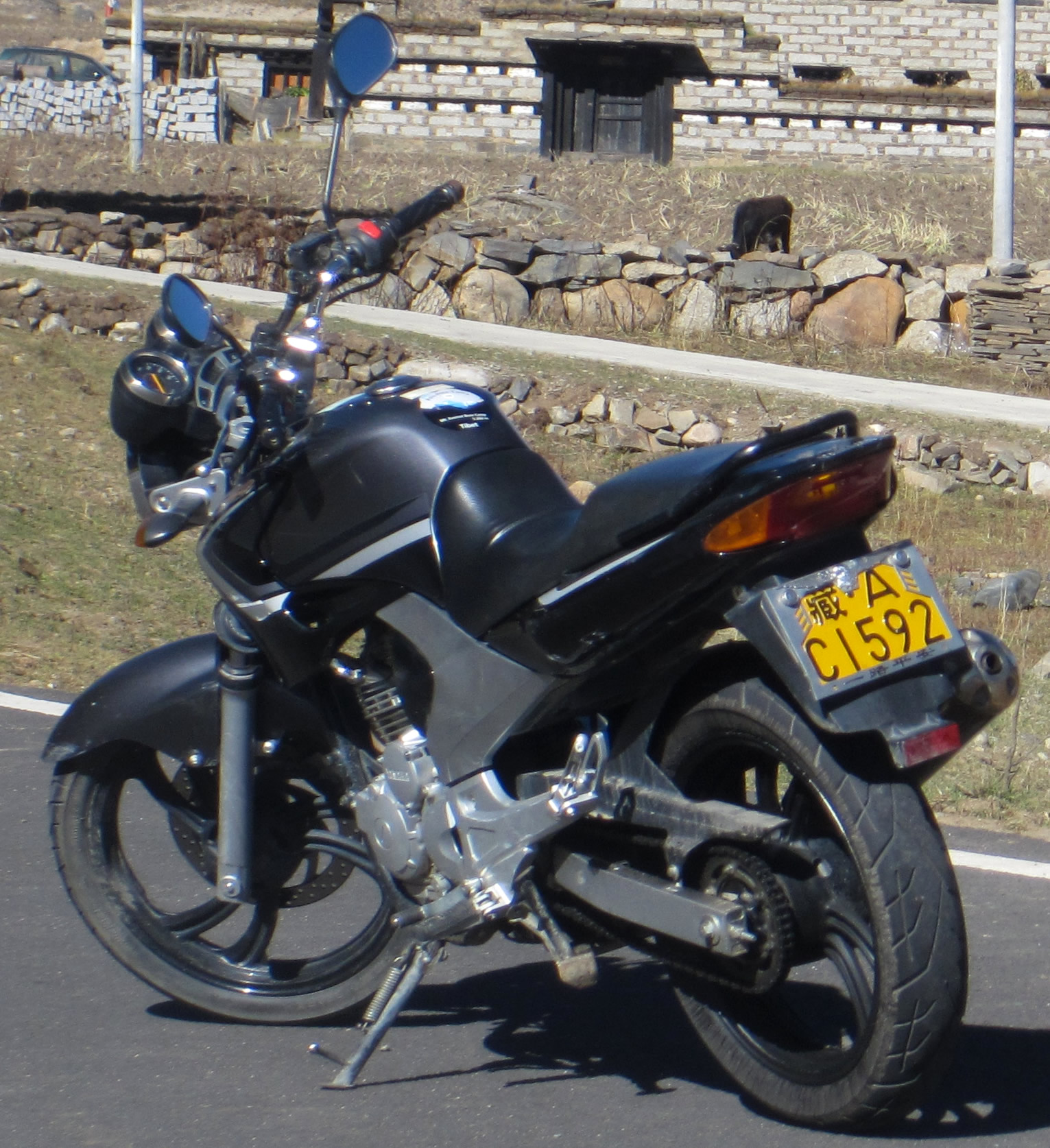 During this trip you ride a Yamaha Fazer 250 cc motorcycle.
Physical challenges
Because of the altitude this tour may be experienced as being quite tough. Once on the Tibetan Plateau you will spend almost two weeks at an altitude of at least 3,500 meters. For most people it's the first few days that will be the toughest. At that time your body still has to get used to the altitude and to a greater or lesser degree this experience will be accompanied by headaches, shortness of breath and / or other vague symptoms. After the acclimatisation period of 2 or 3 days these symptoms will slowly clear. Some people experience more problems while others hardly notice it at all. It is impossible to say in advance who may or may not suffer with it. In any case, it is very important, especially during the first few days, that we make sure we can acclimatize sufficiently. We have therefore decided to ship the bikes to Lhasa and have the tour start there. Lhasa is located at 3650 meters, a good height at which to acclimatise.
Another factor that, in combination with the altitude, can possibly make it difficult, are the roads. China is not interested in improving the Friendship Highway between Lhasa and Kathmandu. It's to their advantage that more and more tourists enter Tibet from the Chinese side. Landslides can create obstacles on the roads, especially after the rainy season. The rainy season also often leads to so-called 'grids', short road sections with ridges.
Accommodation
With a few exceptions you will stay in reasonable, mid-range hotels. Accommodation in the bigger towns now reflects the Chinese standard and so is fine. In the smaller towns there are often only Tibetan Guesthouses with a lot less in the way of facilities compared to the Chinese hotels. However, we will mainly stay in hotels, with an overnight stay at a Tibetan Guesthouse as the exception.
Climate
For motorcyclists, it is difficult to determine the appropriate travel season for a Tibet Tour. The rainy season in the highlands lasts from June until the middle of September. However, these are also the warm months; straight before and after the rainy season it is a lot colder. We have therefore opted for the transitional period in September when it is usually dry and the temperature still pleasantly warm. Because of the altitude temperatures drop considerably at night.
Off Road
A large part of the tour is on unpaved roads. These are not even small country roads but the main roads between the larger towns. Meanwhile, the roads around Lhasa and Shigatse have now been asphalted. It is not our aim on this tour to ride as much as possible off-road, but it is often unavoidable. There is no immediate need for an off-road training course.
Clothing
Mandatory items are a helmet, motor jacket with protection, gloves, a good strong pair of warm (motorcycle) trousers with protection, and sturdy high (mountain) boots. Due to the extreme temperatures it is useful to bring a waterproof warm motorcycle jacket and some extra warm long sleeved shirts that you can layer one on top of the other on colder days. Rain trousers or waterproof motorcycle trousers are also recommended. Furthermore, and very useful: a good pair of sunglasses, lip balm, and sunscreen, also a helmet with visor or a good pair of glasses that also protects against dust on the unpaved roads.
Visa and Driving License
To enter China you need a visa. You can apply for that yourself at your embassy. In China, a Chinese driver's license is required; we arrange this for you in Lhasa. Tibet requires separate permits that we will provide.
More details about the trip and items to bring can be found in the tour's handbook which you will receive approximately one month prior to departure.
Tourdetails

Tourcode:

TIO

Category:

Adventure

Group size:

8 - 10

Days:

16

Price:

From $ 4.090,-
Upcoming departure dates

Tourcode

Departure

Status
Routemap