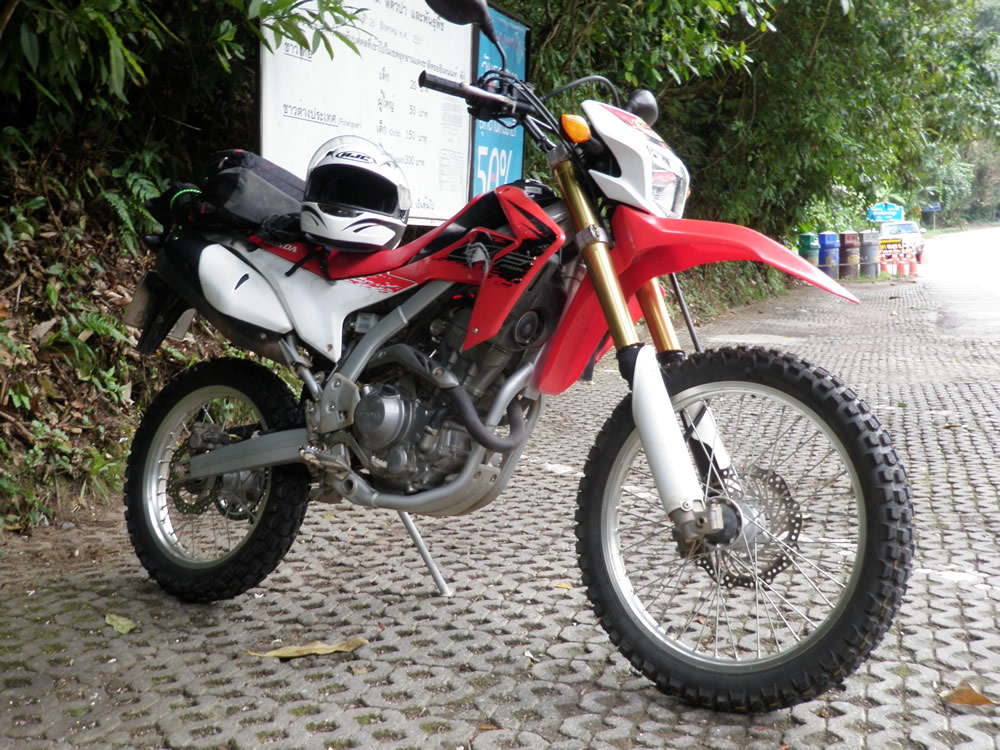 Motorcycles
During this trip you will ride on a Honda CRF 250cc motorcycle.
Physical challenges presented by this trip
During the trip we do not reach high altitudes nor do we ride extremely long distances. What can make the trip physically challenging are the very high temperatures in spring and autumn. In the north of the land, 40 degrees Centigrade is not unusual. The amount of off-road riding will comprise circa 10% of the routes. These parts are not very difficult. An off-road training is not absolutely necessary but it is advisable for participants without any off-road experience.
Climate
In the lowland areas in spring and autumn it can be very hot. In the mountains, it is, of course, less so. The rainy season in Burma is from July to September but in the few months before and after it can also rain frequently.
Clothing
The following items are mandatory: helmet, motorcycle jacket with protection, gloves, a good hard wearing (motorcycle) trousers with protection or separate knee protection and solid high (mountain) boots. Due to the extreme temperatures it is helpful if you bring a waterproof motorcycle jacket and extra warm shirts with long sleeves which you can wear on top of each other on colder days. Rain trousers or waterproof motorcycle trousers are also recommended. Furthermore, a good pair of sunglasses, lip balm and sunscreen are useful and a helmet with a visor or a good pair of glasses which also protect against dust on unpaved roads, are also advisable. A sheet sleeping bag may be useful for the nights in tents and in the homestay accommodation.
Visa
For most countries a visa is required for Myanmar. You can apply for this at the Myanmar embassy or we can arrange it on your behalf. For most countries is not necessary to apply in advance for a visa for Thailand; this is issued on arrival at the airport or at the border.
N.B. For Myanmar, visa processing can take up to several weeks. As soon as you sign up for a trip you will receive a visa application form.
Accommodation
With a few exceptions, the accommodation is in good middle class hotels. Exceptions to this include the night on the coast and in the area of the Chin people. In these other hotels, the rooms always have their own shower and toilet and the hotels are usually very clean.
More details about the trip and items to bring can be found in the tour's handbook which you will receive approximately one month prior to departure.
Tourdetails

Tourcode:

BUR

Category:

Adventure

Group size:

8 - 10

Days:

-

Price:

not yet known
Routemap