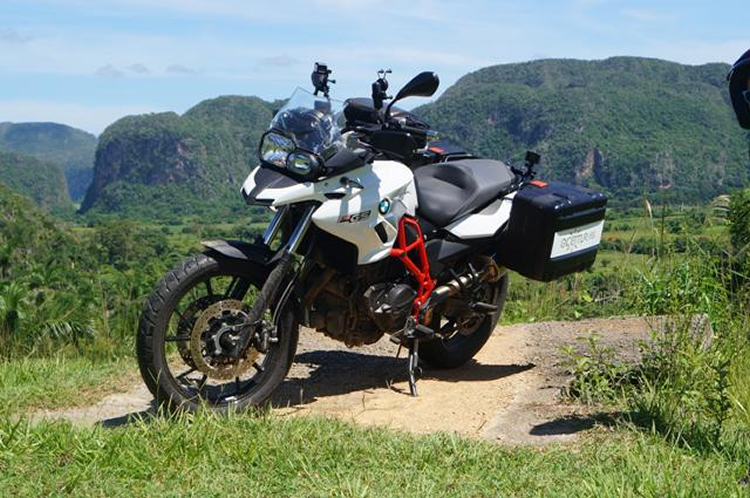 For this trip we use a BMW GS700.

Support vehicle
This journey is without support vehicle. You will carry your own luggage in the side cases of the motorbike. Of course you can leave things you don't need during the motorbike tour in the hotel in Holguin. We will return to this hotel at the end of the tour.

Tourleader
This tour is accompanied by a Cuban guide on a motorbike. Our guide speaks fluent English and of course Spanish. Language of instruction will be English.

Accommodation
During this trip we will stay in the so-called casa particulares. These are private houses which have sufficient rooms to rent out to tourists. Hotels in Cuba are very expensive for tourists, staying in a casa particular is a bit cheaper. In addition to that you will have direct contact with locals. If you would rather stay in a hotel then the additional costs for this trip are 875,- euro.

International Group
This tour is in cooperation with an international partner organisation, the group will have different nationalities, therefor the instruction will be in English.
Difficulty of the tour
During this tour through Cuba, we don't reach very high altitudes and do not travel through extremely deserted areas. Daily distances are not long, so there is plenty of time and opportunity to stop along the way to take pictures or to visit villages.
Off Road
Most of the tour is on paved roads and/or good quality tracks. These sections are not very difficult and certainly do-able without any off-road experience or off-road training beforehand.
Climate
Cuba the climate is tropical, with a dry and relatively cool season from late November to mid-April, and a rainy and muggy season from late April to early November. The climate is fairly uniform from one area to the other, but there are some differences that are worth considering. In the south, where the only mountainous areas are found, there is a greater difference between the north-facing slopes, which are very wet, and those exposed to the south around Guantanamo Bay. During the rainy saison, there is a muggy heat everywhere, which is sometimes hard to bear, even though it is tempered by the trade winds or the breeze. The hottest months are July and August. The daytime temperature rarely exceeds 33/34 °C, but moisture makes the heat sweltering. The rains are often intense, but they occur mostly in the form of showers or thunderstorms in the late afternoon.
Clothing
Mandatory items: a helmet, motorcycle jacket with protection, gloves, a good strong pair of (motorcycle) trousers with protection or separate knee protector, and sturdy pair of high boots. It can be very hot whilst travelling. A summer motorcycle jacket with protection is therefore recommended. Then you can if necessary, for the colder parts in the mountains, wear extra clothing under your jacket. Also very useful, a good pair of sunglasses and a helmet with visor that protects against dust. We plan our tours to take place in dry season, but because it can sometimes rain during this period a light rain suit is also recommended.
Visa
Cuba does require you to apply for a visa in advance.
More details about the trip and items to bring can be found in the tour's handbook which you will receive approx. one month prior to departure.
Tourdetails

Tourcode:

CUR

Category:

Adventure

Group size:

1 - 10

Days:

15

Price:

From $ 3.300,-
Routemap